Meet our team:
More to Life is pleased to offer the services of four skilled massage therapists, personal training and yoga instruction, and reiki. Visit their bio page to find out more about each of these talented women:
Jennifer Clarke Gargaro RMT

Jennifer has been a Registered Massage Therapist since 1998. Jennifer's work is her passion! She is a deep tissue massage therapist and believes the body has the innate ability to heal itself. Sometimes it just needs a little space to help.  She facilitates healing by pointing out the areas that hold tension.
Read more →
Jen Bullock RMT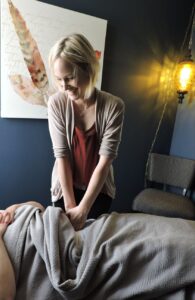 Jen has been working as RMT in Kingston and surrounding area since 2010. Since beginning her career she has developed her skills to include, deep tissue therapy, soft tissue release, muscle energy and manual lymph drainage. In addition she has training in the healing properties of essential oils.
Read more →
Brooke MacDonald RMT
Brooke MacDonald has been with More to Life Massage Therapy since 2018, a seasoned therapist, she received her registration in 2000. She has taken a few years off to travel and  enjoy being a mother, in that time frame.  One of her career highlights on her travels, was working at the Willow Stream Spa in the Banff Springs Hotel, in the Rocky Mountains.
Read More 
Annemarie has been a registered massage therapist since 2016 after graduating honours from Trillium College.
As a mom to four boys who participated vigorously and competitively in multiple sports she saw the benefit to massage in healing post injury and for chronic pain. With a previous 20 year history as fierce advocate for disabled and disadvantaged in her community Annemarie is passionate about empowering people to become active participants in their health.